Apple-Cinnamon Oat Pancakes (Gluten-Free, Vegan)
I am allergic to apples. And that really sucks because I used to have an apple everyday when I was a kid, and it's in lots of tasty things like smoothies and green juices that I would like to eat. But here's the weird catch with my allergy: as long as the apples are cooked and/or pasteurized, I can have it. Apple juice from a box? No problem. Applesauce? Hurray!
This is a relief because applesauce is such a good pinch hitter to help reduce the oil and sugar in baking recipes. Also too, I have a weakness for apple-utilizing baked goodies.
Enter these wholesome fluffy, moist Apple-Cinnamon Oat Pancakes that seriously knocks out cravings for cake I tend to get sometimes. Also, these are amazing for weekend brunch and are so filling.
Also, the smell of these while they are cooking on the stove makes your kitchen (or in my case, entire studio apartment) smell like a holiday candle-- considering it's 9 days until Christmas and I am up for any and all festive things, whether it be scent or decoration or eating, this fits the bill.
Using oats instead of traditional flour makes these pancakes gluten-free, and I also like to use a flaxseed egg as an egg replacer to make it vegan-friendly. Although, I've also done this recipe using a regular egg and it works equally as well.
These pancakes are also super thick and fluffy, and hold moisture so well because of the applesauce. The batter initially will seem too thick, but trust me, this works in your favor. Bonus is to double the batter and pop a few individually wrapped pancakes in the freezer when hankering for a snack or during a rushed morning!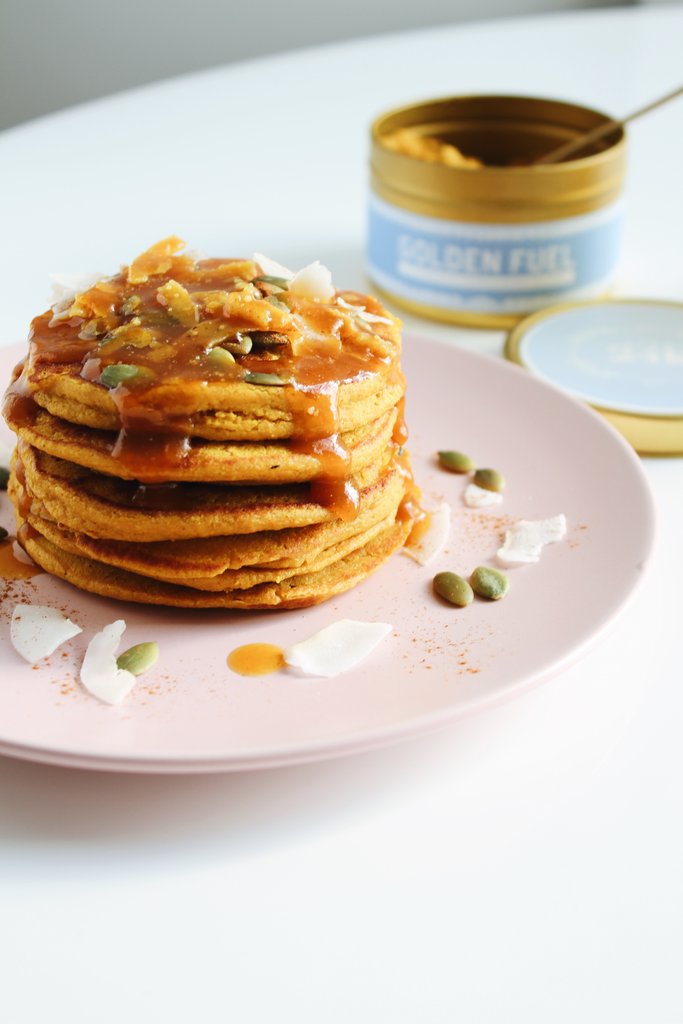 Another thing I love about this recipe is that it is seriously a lazy girl's dream. Throw all ingredients into a blender, blend, and pour onto griddle. Makes for an easier cleanup, less dishes (a total win for tiny apartment kitchens w/no dishwasher), and less intimidating to make for a weekend morning where you just want to laze instead of making breakfast.
Ready?
Apple-Cinnamon Oat Pancakes (Gluten-free, Vegan)
*serves 2 people
Ingredients
1 cup rolled raw oats (GF-certified if need be)
1 cup no-sugar added applesauce
2 tbsp coconut oil, melted + more for griddle
1 flax egg (1 tbsp ground flax + 3 tbsp water, refrigerate for 15 min.) OR 1 large egg
1 tsp vanilla extract
1/2 tsp ground cinnamon
1 tbsp baking powder
Pinch of salt
Maple syrup to top
Recipe
1. Place all ingredients into a blender, and blend until smooth and consistent.
2. Heat a large non-stick pan over medium-low heat, and lightly grease pan with a dab of coconut oil. Make sure pan is fully heated, then pour a loaded spoonful of batter onto the griddle to make each pancake (should be about 3-4" in diameter). Let pancakes cook for about 2 minutes until the usual pancake sign of bubbles popping up happen (the batter is thicker so it may take a bit longer!) and bottom is golden, then flip and cook for another 1-2 minutes on the other side.
*tip: these pancakes cook quicker on the outside than the inside, so to avoid undercooked batter on the inside, take it easy on the heat and be patient with the time it takes to cook each side. Cranking up the heat wont make it go any faster!

3. Serve when finished! Drizzle with maple syrup to top, and any toppings you desire (banana coins and chia seeds are pictured)